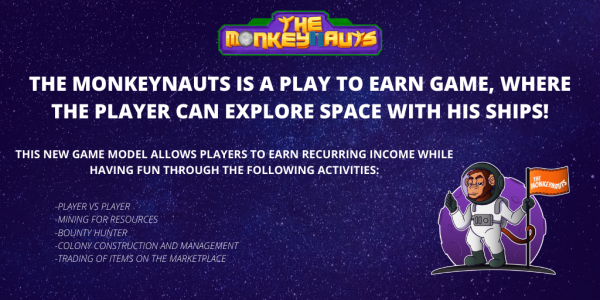 The Monkeynauts is a space management, exploration, mining and combat game that adopts the Play to Earn system. In a universe where apes have become the dominant species, the player will start controlling a small crew of Monkeynauts and will aim to establish a colony and expand their empire. You will be able to obtain Monkeynauts, equipment, ships, base modules, and land to build your empire. Almost all of these items will be tradable in our domestic market.
PVE Mode Burn System – Bounty HunterThe PVE mode burn system is given by the relation of Reward Vs Burn, where the player when receiving an amount of $SPC, the same amount x4 will be burned on the day.
Example: When playing, you receive a reward of 10 $SPC. That 10 $SPC goes to the player and another 40 $SPC will be burned.
This system will remain active and will pay tokens according to the burn that follows in phases:
Phase 1 – Guaranteed $SPC burns up to 100 million tokens.
Phase 2 – Following the flow of fees that will fuel the rewards portfolio, a relative burn will be executed seeking the amount of 20 million SPC tokens for this.
Next steps is to increase our marketing worldwide, with you tobe partnerships disclosure in numerous sites, we are working on a system of stake, for holders of our token have a form of profitability without the need to play the game, we also want to reach the major exchanges for our holders can negotiate in their brokers of confidence, we are at the beginning of a promising project.
Media Contact
Company Name: The Monkeynauts
Email: Send Email
Country: Brazil
Website: https://themonkeynauts.com/